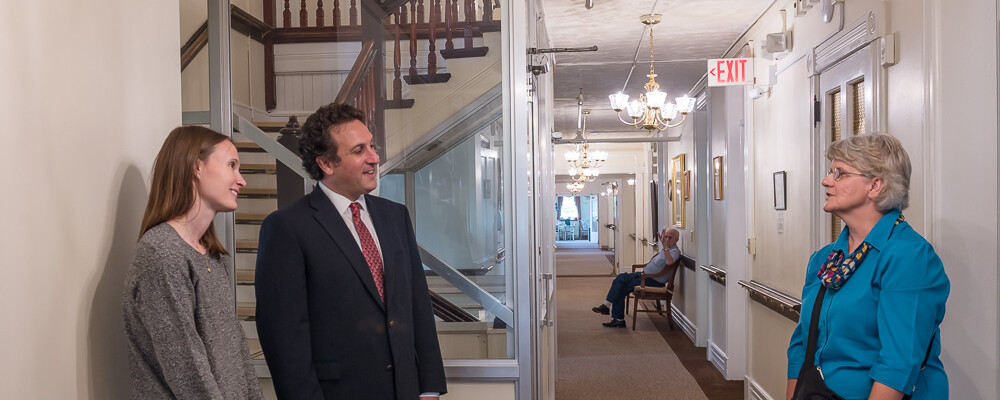 Frequently Asked Questions
Assisted living is a general term that is used across the United States to describe a residence for seniors where assistance is provided, as needed, with activities of daily living, such as bathing, dressing, grooming, ordering and taking medications, and making doctors' appointments. Additionally, meals, snacks, housekeeping and laundry services are provided. The goal is to provide each person living in these residences with considerate and respectful care, and to promote their dignity, independence, privacy and safety in a comfortable, residential setting.
Yes, there are three different types of assisted living facilities. The Vilas Home is a licensed Adult Home. An adult home is a New York State-licensed Adult Care Facility that offers long-term, supportive residential care, including a private or semi-private room (the Vilas Home has private rooms exclusively), all meals and snacks, housekeeping, laundry, 24-hour supervision, assistance with the self-administration of medications, personal care assistance, case management services, and structured activity programs.
The truth is, different people pay in different ways. Most of the residents at the Vilas Home pay privately, meaning they use their own income/assets to cover the cost of care. However, some residents own Long Term Care insurance policies that cover the cost of care, and some residents who previously served in the military (or who had a spouse in the military) are eligible for a VA Aid and Attendance pension which partially covers the cost.
Well, the short answer is that every situation is different, and the best way to tackle this question is through a conversation either in-person or on the phone. As a NYSDOH licensed Adult Home, we have a specific set of regulations that govern the admission process. Truthfully, each individual situation is different, and we'd be happy to have that conversation with you to figure out if the Vilas Home is the right fit for your situation.